At the market
Emigrants sell the fruits of their labor at the fruit and vegetable market, now as then.

The caregiver
An ancient work often left to women from other countries. Remarkable difference in expression between yesterday and today.

Work away from home
So many differences and so many similarities, fiftyˈyears apart: emigrants accept even the most menial jobs.

Emigrants: yesterday and today
Leaving for America and arriving to Italian shores: places and protagonists change, but history repeats itself.

Work in the factory
In drums, behind sewing machines, today as then.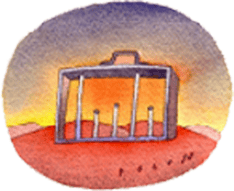 "I dream of a suitcase, an imaginary suitcase that is actually a window whose bars have been cut to allow one to run away...because to emigrate means to free oneself and to run away to seek a better, happier world...If in addition in the logo I also conveyed some poetry I would be very happy..."
The Paolo Cresci Foundation collects important and varied documents on Italian emigrants.
By browsing our site, you can take a journey through time aboard shiploads of emigrants leaving for faraway places, experience their adventures in their new homelands, and share poignant nostalgia for the place of their birth.
If you had a relative who emigrated and would like to know something of his or her history, click here and you can browse our database.
La Garfagnana per Astor Piazzolla nel centenario della nascita
Sign up for our newsletter
You will receive in your Email updates about our activities