The "Paolo Cresci Museum for the History of Italian Emigration" is located in the Ducal Palace of Lucca and more precisely in the Little Chapel of St. Mary of Mercy and adjacent rooms.
The Museum brings together a tangible contribution to the knowledge of an important page in the history of Italy: letters, diaries, documents and photographs belonging to everyday life, the richest existing collection of documents on Italian emigration.
The exhibit follows the stages of the emigrant's journey, from departure, to the journey, to the search for a job once they reach their destination.
The aim is to give the visitor food for thought on the issues surrounding emigration, analyzed in numerical terms - departures, returns, remittances, etc. - but also from the point of view of social, collective and individual events; to present the complexity of the phenomenon, not only taking into account the geographical diversities and the various historical and temporal situations, but also in the psychological aspects related to "diversity" to "identity," to "homologation" and "rejection," oriented towards the formation of a new status of "Italians abroad," a synthesis of memory and modernity.
As a final, but certainly not secondary purpose, the Museum wants to highlight the relevance of the message related to emigration as a historical "lesson" to predispose visitors to the mentality of welcome and tolerance while enriching their own backgrounds through confrontation with different cultures.
In addition to photographic panels and showcases displaying original documents and objects, with both archival and modern images, the exhibition itinerary is enriched by the projection of historical films and sequences from recent widely circulated films, interviews with the protagonists of emigration, and interactive multimedia situations where the visitor is invited to directly conduct research through a computer approach.
All photos of the documents reproduced in the guide come from the Foundation's archives.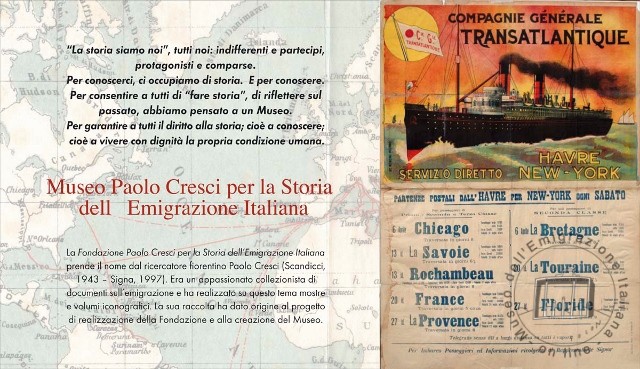 The "Paolo Cresci Museum for the History of Italian Emigration" aims to preserve and enhance the memory of the Italians who went abroad to seek better living conditions by making a contribution to the knowledge of an important page of Italy's history, but also to better understand the challenges of today's, which is increasingly affected by the mobility of peoples and the comparison of different cultures.
The Paolo Cresci Foundation collects important and varied documents on Italian emigrants.
By browsing our sites you can take a trip back in time aboard shiploads of emigrants leaving for faraway places, experience their adventures in their new homelands, and share poignant nostalgia for the place of their birth. If you had a relative who emigrated and would like to know something of his or her history you can browse our database.